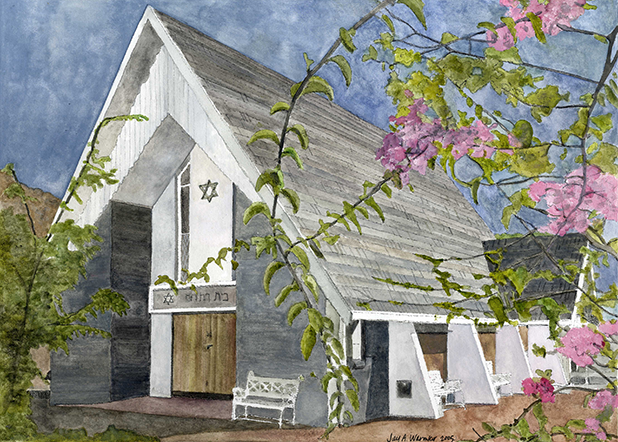 Exterior View (2005), 15" x 11" Watercolor, Jay A. Waronker
ZIMBABWE
Jewish Cemetery
Ohel Shem / Cemetery Chapel (Completed in 1967)
Chevra Kaddisha
Harare (formerly Salisbury), Zimbabwe (formerly Rhodesia and Southern Rhodesia) 96
On the quiet outskirts of Harare, a Jewish cemetery was established in the early twentieth century.   Over the decades, hundreds of Jews have been buried here against the backdrop of the stark Harare hills and surrounded by a community of scurrying monkeys who have long lived here.  Hence, the Jewish cemetery in Harare has a distinct sense of history and place. 
In 1967, this sizeable chapel, with its stone and brick walls and steeply-sloped A-shaped gabled roof covered in natural cedar shingles, was built on the cemetery property.  Located a short distance away from the Jewish graves, it has always been surrounded by some open space.   Aesthetically, the chapel is a Modern design, yet the design includes some quasi-Victorian characteristics, such as the rake detail and buttresses, and therefore the overall composition is difficult to label and stylistically not pure.  Its foundation stone was laid on October 8, 1967.
The interior space, with its steeply-sloped 'A'-shaped ceiling, brick walls, parquet wood floor, and clerestory windows, is today well-maintained and in good condition even though the local Jewish population now numbers less than one hundred people.  At its height in the mid-twentieth century, it is estimated that between seven and eight thousand Jews lived in Zimbabwe, with more than half living in Harare.  Over the years, hundreds of local Jews were buried at this site, and this chapel saw regular use.