A SYNOPSIS OF THE JEWS OF SUB-SAHARAN AFRICA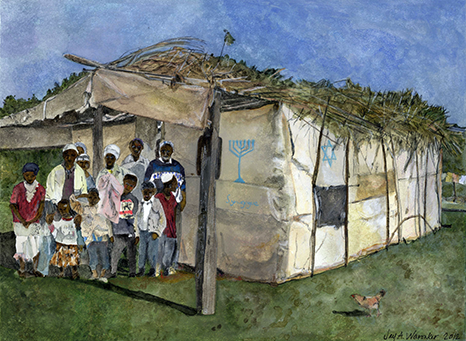 Jews in the Laikipia District of in eastern Kenya.(Jay A. Waronker, Artist)
This website sets out to be the first-ever comprehensive survey of the extant functioning and former synagogues found in sub-Saharan Africa. These are buildings constructed by white European and Middle Eastern Jews who began settling in central and southern Africa in the late nineteenth and early twentieth centuries. This project also includes the synagogues realized by a variety of ethnically-diverse black African communities who either lay claim as descendants of ancient lost Jewish tribes or, as Christians previously, have at their own volition come to freely embrace Judaism in recent years.
The synagogues included in this website can be found in the Democratic Republic of the Congo, Eritrea, Ethiopia, Ghana, Kenya, Mauritius, Mozambique, Namibia, Nigeria, South Africa, Uganda, Zambia, and Zimbabwe. Whereas Jews may have lived or currently reside in others areas of some of the above-mentioned countries or in other sub-Saharan African nations, no Jewish architecture was ever realized or has yet to be built.
A very diverse group of white Jews from throughout the width and breadth of Europe, including both Ashkenazim and Sephardim, along with Jews from Palestine and North Africa came to settle in the sub-Saharan Africa during the colonial period. Whereas there may have been small enclaves of Jews who chose to live (and still do) in an assortment of countries in the region (such as Swaziland, Lesotho, Botswana, and Madagascar), the Jewish communities only became large and sustainable enough to organize and build synagogues in select nations. These include, as an example, literally hundreds in South Africa not only in the country's larger cities but in mid-sized ones along with smaller towns. Alongside the synagogues built in sub-Saharan Africa's largest Jewish base, a handful were also constructed in Mozambique, Zimbabwe (then known as Southern Rhodesia), Zambia (formerly Northern Rhodesia), Kenya, Namibia (once called South West Africa), the Democratic Republic of the Congo (formerly the Belgian Congo and later Zaire) and the island of Mauritius.
In the 19th and early 20th century, Aden in Yemen as a British colony was home to a substantial number of Jews. By the early 1930s, the situation of Jewish community among the wider population had deteriorated, and many Jews left at that time. This pattern continued in the 1940s, with some Jews immigrating to Israel, and into the 1950s and 60s. In 1966, the British finally surrendered Aden, and the remaining Jews left with them, moving mostly to Israel or Great Britain. A small contingency of Adenite Jews wanted to remain in the region, however, and they came to settle in Eritrea, Djibouti, or Ethiopia.
Once in Addis Ababa, Ethiopia, the Adenites never fully assimilated with the broader community made up of native Africans who were mostly Christian yet also sometimes Muslim. The Jews, who tended to speak Italian, Arabic, and English versus the indigenous languages, congregated with each other and with European expatriates, especially Italians. They generally did not marry Ethiopians, and the Ethiopians in turn never fully integrated them. The community grew in the 1960s and early 1970s, as relations warmed between Israel and Ethiopia. Hundreds of Israelis moved to Ethiopia to work and advise the government. For the first time, the Addis Ababa synagogue was able to have a rabbi. Yet this golden period did not last long. When the Yom Kippur War broke out in 1974, most of the Israelis went home and many of the Addis Ababa Jews followed. When the communists toppled the emperor in the mid-1970s and installed a dictatorship, even more Jews emigrated, and synagogue services ended. Since that period, with some positive social and political changes in the country, the Adenite Jewish community in Addis Ababa, albeit minute, stabilized. The Succat Rahamim Synagogue has managed to remain operational, yet marginally so for the handful of long-standing and newer-arrival Jews. There has not been a rabbi at this synagogue for more than thirty years, and for a long time it has been difficult to gather a minyan (quorum) for prayer services. The other intact Adenite synagogue, built in 1906 in Asmara Eritrea, likewise remains open yet so marginally so since only one long-standing Jew remains in town to maintain the Greek-revival building.
Sub-Saharan Africa is today home to a number of independent and distinct black Jewish communities scattered around the vast region. The Igbo Jews of Nigeria, named after a region in the southern part of the western African nation, are made up of dozens of enclaves scattered around this area or now living in Abuja, the national capital. The Igbo Jewish population now numbering some tens of thousands is served by many small synagogues. Due to the instability of the Igboland due in part to Muslim Boko Haram fundamentalist terrorism and threats of violence and kidnapping, traveling to this region is currently dangerous, so only the Igbo synagogues located around Abuja are included in this website at this time.
No doubt the most well-known of the black sub-Saharan Jews are the Beta Israel, a black group more commonly known by the pejorative term Falasha ("foreigners" or "exiles"). The Beta Israel once lived in north and northwestern Ethiopia in hundreds of villages and small towns spread over a wide territory. Claimed by some to have an ancient Jewish origin that has never been altogether authenticated despite rounds of DNA testing, for centuries the Beta Israel lived among predominantly Muslim and Christian populations. As a small majority without regular contact with other Jewish communities, for years they managed to maintain a distinct Jewish identity that included the practice of traditional religious customs and long-established lifecycle practices.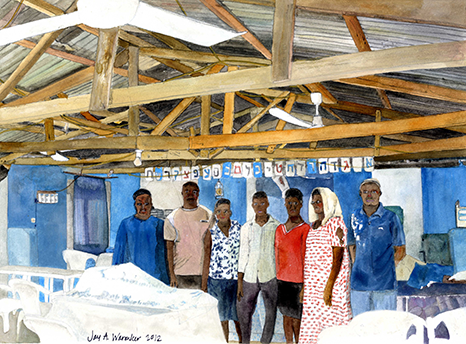 Igbo Jews in Abuja, Nigeria.(Jay A. Waronker, Artist)