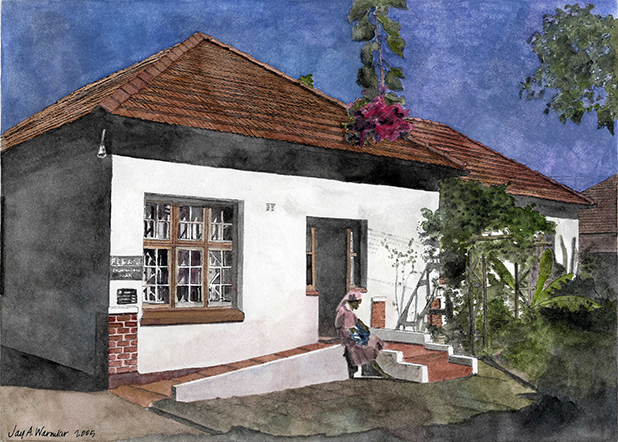 Exterior View (2005), 15" x 11" Watercolor, Jay A. Waronker
ZIMBABWE
Progressive Synagogue House
Harare (formerly Salisbury), Zimbabwe (formerly Rhodesia and Southern Rhodesia) 95


A small house located in a residential area between the two main synagogues.
In the 1960s, a Progressive Jewish Congregation was formed alongside the long-established Sephardi and Ashkenazi communities.   Always a small enclave, the Progressive Jews did not build a synagogue but operated out of at least two existing small houses that they rented in town.  In Bulawayo, a Progressive Jewish Congregation was also established even earlier in 1959, and they came to build a large facility in 1971. 
Harare's Progressive Congregation did not last long, when many from their community (as well as from the Jewish community at large) began to emigrate in the 1980s.  This was as a result of social and political changes following the end of British colonialism in Zimbabwe and national independence in 1980.   These turn of events led to massive white, including Jewish, emigration.  As a result, the Progressive Synagogue was dissolved.   Since that period, the residence once used by the Progressive Jews and captured in this watercolor has been used for other purposes.  At the time this painting was completed, the small structure served as a doctor's office.