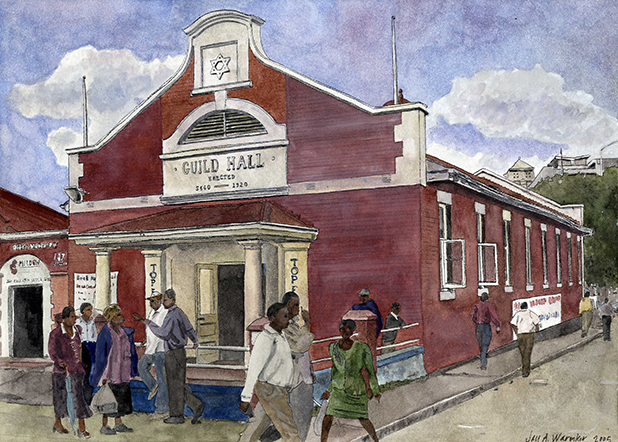 Exterior View (2005), 15" x 11" Watercolor, Jay A. Waronker
ZIMBABWE
Harare Hebrew Congregation (Founded in 1895) Guild Hall (Completed in 1920; Sold in the Mid-1970s)
Harare (Formerly Salisbury) Road near intersection with Jason Moyo Avenue
Harare (formerly Salisbury), Zimbabwe (formerly Rhodesia and Southern Rhodesia) 94


The building was being used as a hair salon (to the front) and a coffin-building company (at the rear) at the time the rendering was completed.
A few years after the Jewish community of Harare built their first synagogue in 1916, this single-story, rust-brick structure, called Guild Hall (named for its various functions) by the Harare Hebrew Congregation, was built immediately next door, or south of the sanctuary to form a small synagogue compound.   W. D'Arcy Cathcart Ariba, a locally-based Portuguese and Christian architect who had designed the synagogue was also responsible for this building.   Guild Hall served as the social, cultural, and educational hall for the congregation for some four decades until the Sephardi Jews and later the Ashkenazi Jews built their own synagogues and support spaces on other sites north of the city center.  
The building features a Dutch gable façade with a Magen David (Star of David) decorating a panel at the top.  In the center of the facade is another panel containing the name of the building and the 1920 construction date.  The corresponding Hebrew date of 5660 is also listed.   The same rust-colored brick used at the adjacent synagogue and corrugated metal roof are used here.  A pair of glass and paneled wood entry door and a shallow porch with its roof supporting by classical columns and pilasters fill the base of an otherwise blank front façade.
Since this building was sold by the Jews in the mid-1970s, it has served a variety of functions.  At the time of this painting, it operated as a women's hair salon to the building's front and a business for making coffins to the rear.  Although not perfectly maintained, the Guild Hall structure was then in adequate condition and marginally cared for.