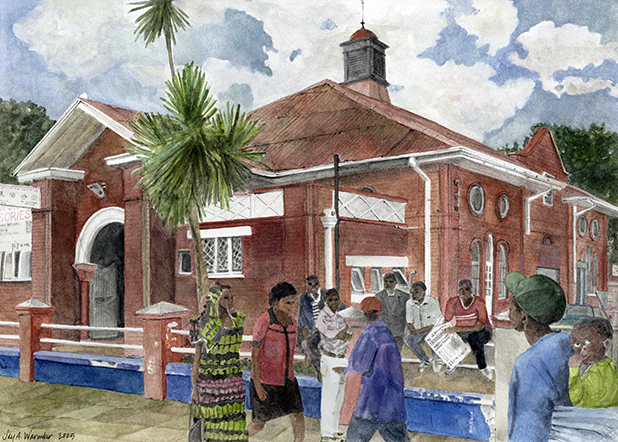 Exterior View (2005), 15" x 11" Watercolor, Jay A. Waronker
ZIMBABWE
Former Harare Hebrew Congregation (Founded in 1895) Synagogue (Completed in 1916; Sold in Mid-1970s)
Harare (Formerly Salisbury) Road near intersection with Jason Moyo Avenue.
Harare (formerly Salisbury), Zimbabwe (formerly Rhodesia and Southern Rhodesia) 92 and 93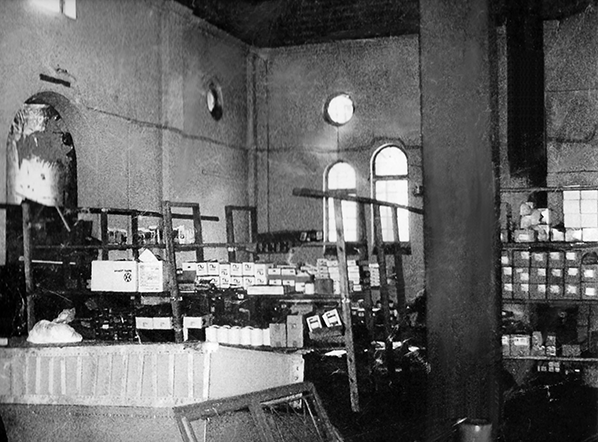 Interior View (2005), 15" x 11" Photograph, Jay A. Waronker


The building was being used as an auto parts company at the time the rendering was completed.
In the late part of the nineteenth century, during the earliest years of the British colonial period, a Jewish community had settled in Harare, then Salisbury.  These Jews, mostly of Western and Eastern European origins, formed a congregation by 1895, and they initially conducted prayer services in private homes and rented facilities in town.   There is a record of hotel and commercial spaces where services were held during this early period in Harare's business district, but none of these temporary spaces survive today.  
When it came time to building a proper synagogue beginning in 1915, the Jews procured a building site on Salisbury Road just to the west of the heart of the city's main commercial center.  A local Portuguese and Christian colonial architect, W. D'Arcy Cathcart Ariba, was commissioned to design the building, yet it is unlikely that he had any prior experience with the building typology.  A local contractor, J. M. Builder, was responsible for construction.   The building, a modest single-story, conservatively designed symmetrical red brick structure with its hipped roof and corrugated metal roof with a cupola at the ridge, would be difficult to recognize as a synagogue or even a building serving any important communal activities.  Rather, it has a generic, small commercial scale and aesthetic.   The structure's most prominent architectural feature is its gabled front porch with a recessed rounded-arch gated entrance flanked by medieval-period columns.  To both sides of the porch are flat-roofed wings with small windows and a parapet wall designed with crisscross patterned panels.
At the time of this painting, an auto parts company occupied the former Jewish house of prayer.  Business offices filled what were once the synagogue's offices and support spaces to the front, and the sanctuary – still with its original pressed metal paneled ceiling intact – located to the rear was used as a storeroom.   Shelves full of auto parts and other supplies filled the space, and the ark, obviously now empty and derelict, could still be identified.    The synagogue's original building inscription can today be found on display in the foyer of the Harare Ashkenazi Congregation Synagogue in Milton Park.
The building served all Jews of Harare – those coming mainly from both Sephardi and Ashkenazi European origins – for some decades until the congregation split, and the Sephardi enclave began building their own synagogue in 1957 on a site just north of here.   The Ashkenazi Jewish division grew in the 1950s and 1960s, but it was not until the early 1970s that they finally purchased a new building site, constructed a larger synagogue in Milton Park that was completed in 1977, and then sold this 1916 building.   The near century-old structure, no longer marked with the synagogue's name or other markings, was in adequate condition at the time this watercolor was completed.