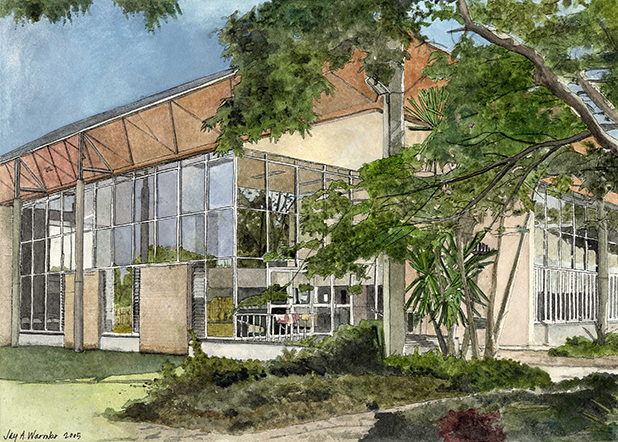 Exterior View (2005), 15" x 11" Watercolor, Jay A. Waronker
ZIMBABWE
Harare Hebrew (Ashkenazi) Congregation (Founded in 1895) Synagogue (Completed in 1977)
Milton Park Jewish Center
Harare (formerly Salisbury), Zimbabwe (formerly Rhodesia and Southern Rhodesia) 89 and 90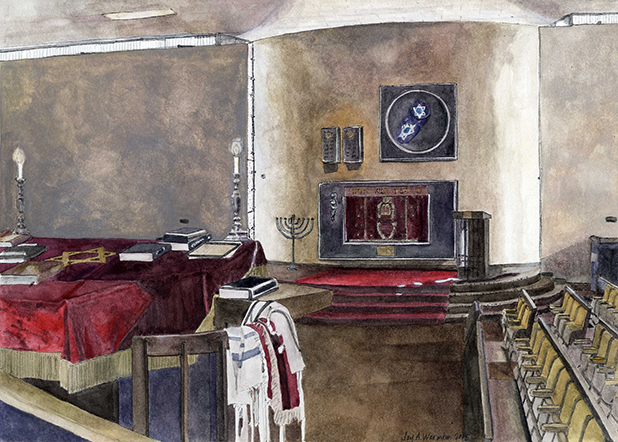 Interior View (2005), 15" x 11" Watercolor, Jay A. Waronker
During the late nineteenth century, Ashkenazi Jews mostly from Russia and Lithuania yet also from other Eastern European countries came to settle in Zimbabwe, then called Southern Rhodesia, after the territory had been colonized and established as a trading post by Britain.   Along with Harare, then Salisbury, Jews moved into Bulawayo and the Midlands area of central Zimbabwe, so by 1900 the Jewish population of the country was approximately four hundred strong.   These were joined in the late 1930s by German and neighboring Western European Jews fleeing Nazi persecution.  By 1943, the Rhodesian Zionist Council and the Rhodesian Jewish Board of Deputies were established, and shortly after World War II Jewish immigrants arrived from the United Kingdom, South Africa, and a handful of other countries.  During the 1950s, the Jewish population of Zimbabwe continued to rise, and by 1961, it peaked at between seven and eight thousand people.   Among those added at this particular periods were Jews from the Belgian Congo, who left that country at the time of its national independence.
Rhodesian Jews generally became assimilated into white Rhodesian society, yet the community remained distinct unto itself as "in-betweens" who were neither British colonists nor natives, and they were a devout and loyal group.  In 1965, the white minority government of Southern Rhodesia declared independence as Rhodesia in response to British demands that the colony be handed over to black majority rule.  Rhodesia then became subject to international sanctions, and Black Nationalist organizations began an insurgency which lasted until 1979.  By the time the so-called Rhodesian Bush War ended, most of the country's Jewish population had emigrated along with many whites.  Whereas some Jews chose to stay behind when the country was transferred to black majority rule and renamed Zimbabwe in 1980, emigration continued.  By 1987, only 1,200 Jews remained.  Once social and economic conditions deteriorated further during the 1990s, more Jews immigrated, joining those that had earlier relocated mostly to South Africa, the United States, Israel, England, and Canada to seek better economic conditions and Jewish marriage prospects.  Today less than 200 Jews remain in all of Zimbabwe, with about two-thirds of them living in Harare.
For decades Harare's Jewish community, founded in 1895 during the early days of the British colonial period, functioned as one congregation.  For some years these Jews congregated and prayed together in private homes or temporary facilities until their first synagogue, Harare Hebrew Congregation, was completed in 1916 just west of the city center on Salisbury (later renamed Harare) Road.  In time, the Sephardi and Ashkenazi enclaves were each large and distinct enough to separate from each another.   A Sephardi building was constructed first in 1958, and the Ashkenazi Jews continued to use the 1916 building until they were able to realize a newer and larger synagogue that was completed in 1977. 
In the early 1970s, the Ashkenazi Jews purchased a large parcel of land in a leafy, upscale residential area called Milton Park not far yet still separated from the center city just to the south.  The property was just north of the site of Shaare Shalom (Sephardi) Synagogue.   On the Milton Park land, the Ashkenazi Jews built a large synagogue set in a flat grassy space along with the freestanding Sharon Jewish school, separate Harry Margolis social hall, administrative spaces, and other accessory buildings.  Creating a synagogue campus, most were designed by a team of local architects that included Geoffrey Doctors and a Jew, Harold Beck.
Work began on the sanctuary in 1975, and it was dedicated in August 1977.   The building has an international Modern aesthetic considered somewhat appropriate or marginally in trend to the period with its nearly flat roof, modern columns, expanses of glass, and sleek modern materials including aluminum.     When it was built, however, this design persuasion had been around for some decades, and it was at that date not particularly progressive or cutting-edge.  In fact, the exterior architecture could be considered dated or staid.    The synagogue design seemed to have been influenced in part by the work of the Modernist architect Le Corbusier at his Chapel of Notre Dame du Haut in Ronchamp, France of the mid-1950s in regard to some of its massing at the building's solid-massed rear elevation as well as various design and construction details elsewhere.  The result, however, is less dynamic, cohesive, and interesting than Le Corbusier's iconic Modern pilgrimage church design.  Areas of the sanctuary's facades are particularly open with large expanses of glass alongside metal supporting columns, while other areas are more solid and flat with thick walls divided by inset windows.   The result is a building that changes dramatically as one walks its perimeter.   The rear walls of the synagogue are rarely seen or experienced, however.
Adjacent to the sanctuary is a generous gravel area designated as car parking, and surrounding this open area and the building is an assortment of mature trees and other plantings.    The result is a campus that seems more suburban and isolated than urban in mood, atmosphere, and attachment to the city's fabric.
When it was completed, the synagogue sanctuary's two hundred fifty seats were regularly filled to capacity by the men, women, and children who made up the Harare Hebrew Congregation membership.   While the Ashkenazi Jewish community in Harare was at its height more than a decade prior, they were slow to build a larger and more modern synagogue.  By the time this sanctuary was realized, the congregation was stable but would soon begin to decline in numbers.   National independence from apartheid rule in 1980 followed by considerable social and political changes and unrest in new Zimbabwe and an uncertain future for the Jews there led to the immediate decline in synagogue membership as Jews began leaving the country.  As a result, the large space was needed only a few short years before becoming essentially obsolete. 
The synagogue houses an impressive sanctuary featuring a gently sloping roof, stained wooden parquet flooring, solid brown carpeting, fixed theatre-style gold velvet upholstered seating, white and gray textured stucco walls, aluminum-framed windows and clerestories, and a unique barrel vaulted tan brick dividing wall that leads from the over-generous circulation areas to the seating.   Whereas the sanctuary is stripped down, uncluttered, and contains limited decoration, it does include select ornamental flourishes:  large silver candlesticks, a dramatically-designed stucco with cobalt and white glass bowed Ark placed on the raised pulpit with its wide semicircular steps, ner tamid (eternal lamp), a clock with Hebrew characters, dedicated seating for officers, and a custom-designed and distinctly-shaped bimah (table where the Torah is read) with its draped red velvet fabric.  The color scheme of the room is muted with grays, gold, tans, and browns indicative of the architecture and taste of the time. 
The sanctuary, with its abundant natural light, soaring volume, sense of drama, and varying floor levels, also contains a small library to the west side of the space and a generous mezzanine level where the women sit.    A large and open entry foyer, which leads to the sanctuary, mezzanine and various accessory spaces, has in recent years also served as the social hall ever since the congregation first rented and then sold the freestanding Harry Margolis Hall found nearby on the synagogue campus.