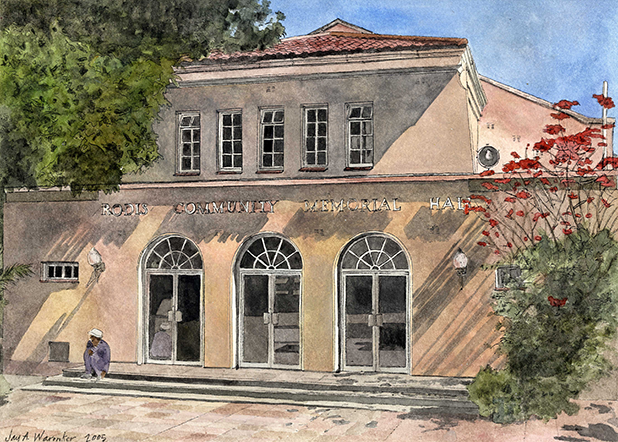 Exterior View (2005), 15" x 11" Watercolor, Jay A. Waronker
ZIMBABWE
Shaare Shalom (Sephardi) Congregation (Founded in 1931) Synagogue's Rodis (Originally Rhodis) Memorial Hall (Completed in 1957)
54 Josiah Chinamano Avenue
Harare (formerly Salisbury), Zimbabwe (formerly Rhodesia and Southern Rhodesia) 88
Fronting the main entry plaza of Sephardi Hebrew Congregation alongside the larger sanctuary building to its left is the freestanding Rodis Memorial Hall.  This double-height, stucco-clad, clay tiled-roofed social and community hall is positioned close to Josiah Chinamano Avenue.   The façade massing, with its three rounded door openings and four windows above, contains the building's foyer, and it abuts and conceals the larger shed-like block to the rear which houses the large multi-purpose room and support spaces.  
Completed in 1957 before work on the adjacent sanctuary building commenced that same year, the hall houses a large column-free communal space with a stage for productions, an alcove space with large glass doors used for kiddish and oneg Shabbat gatherings after the prayer service, a kitchen, and other accessory spaces. For years the frequently-used hall provided the very active Sephardi Hebrew Congregation a place for collective gatherings and life-cycle celebrations.  
The building was originally called Rhodis Memorial Hall in tribute in part to the Isle of Rhodes where many of the congregation hailed from originally, and also in acknowledgement of the country's name at the time.  Around national independence in 1980, the name was changed by the community to Rodis so as not to associate and confuse itself in any way with Cecil Rhodes, the ardent believer in British colonialism and founder and namesake of Rhodesia who had harbored attitudes that had now become socially and politically unacceptable.  Through a careful inspection of the lettering affixed to the façade of the building, it is still possible to make out this quiet and timely change.