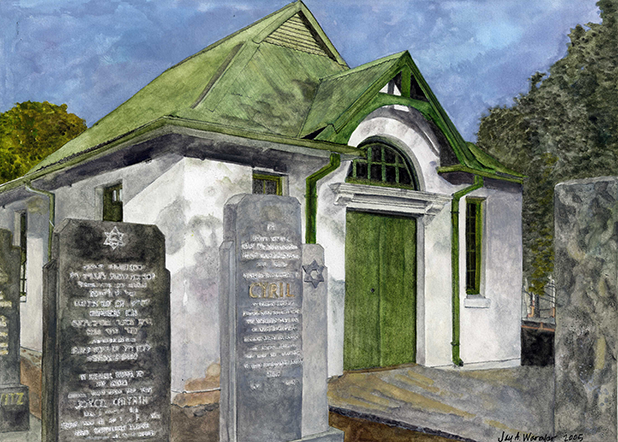 Exterior View (2005), 15" x 11" Watercolor, Jay A. Waronker
ZIMBABWE
Jewish Cemetery Ohel (Tent / Chapel) (Dating to c. 1900)
Warren Hills Cemetery
Fort Street and 4th Avenue
Bulawayo, Zimbabwe (formerly Rhodesia and Southern Rhodesia) 109 and 110 107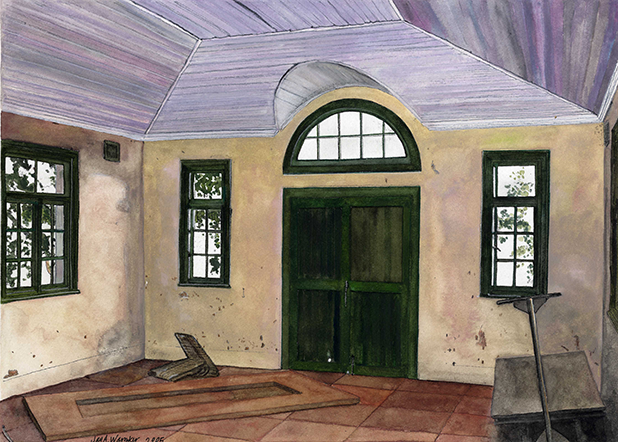 Interior View (2005), 15" x 11" Watercolor, Jay A. Waronker
It was on March 26, 1897 that the Bulawayo Hebrew Aid and Benevolent Society was established.   A part of its efforts involved the founding of a local Jewish cemetery situated at Fort Street and 4th Avenue.   The organization was the forerunner of the Chevra Kadisha and Free Loan Society.
At the Jewish cemetery in Bulawayo, a cemetery chapel, dating to the very early years of the twentieth century, was built along with a mikvah (ritual bath) immediately adjacent to the graves.  At the time this watercolor was painted, there were 1,375 Jews buried with their graves organized in neatly-aligned rows.  The adjacent chapel features walls of brick veneered in white stucco, the roof is wood-framed and covered in corrugated green metal sheets in a hip-gable shape, the roof's eaves are open and have gutters, and the doors and divided-lite windows are fabricated from wood and painted green.  Above the pair of entry doors is a band of trim the same color as the walls, and it is supported by brackets, Above this decoration is a half lunar, divided-lite transom.  A small gabled roof with exposed wood half-round and stick trim pieces, which is one of the few flourishes of the otherwise reserved chapel, protects this area and served as a shallow porch.  This chapel was used for Jewish funeral services and related functions until 1962, when an adjacent larger freestanding structure was constructed for a community then in its prime.   This second chapel was built concurrently with the expansion of Bulawayo's Hebrew Congregation Synagogue.
The Jewish graves, with their light or medium-gray granite cover slabs or light or medium-gray granite curbs filled with small stones as well as the English and Hebrew-inscribed headstones also of gray granite, date to the late nineteenth through early twentieth centuries.  Warren Hills Jewish Cemetery remains a well-maintained and peaceful place with its red-soil grounds, mature groupings of shade trees and shrubs, and paved paths.
This small one-room chapel, in derelict condition at the time this watercolor was painted, was used by the Jewish community of Bulawayo for decades for Jewish funeral services and related functions.  The Jewish community received a grant from the colonial government for the purchase of land for a cemetery in the late 1890s, and soon thereafter the burial ground was established.  Although the exact completion date of this chapel is not known, based on its form and construction it was likely built at the turn of the twentieth century. 
The interior space features brick walls veneered in white plaster, a pair of entry doors painted green, painted green wood windows with divided lites, a concrete floor, and a vaulted ceiling finished in painted wooden strips.