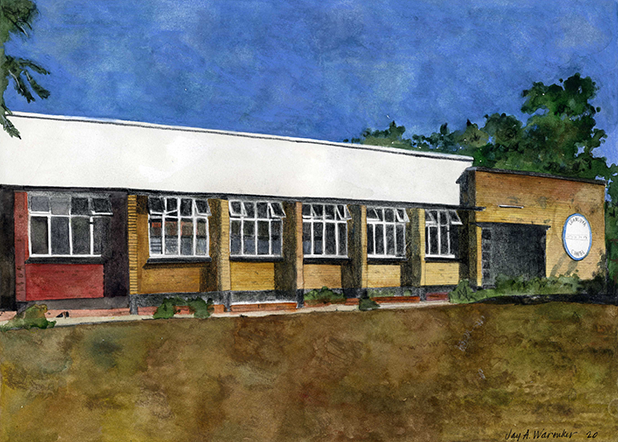 Exterior View (2005), 15" x 11" Watercolor, Jay A. Waronker
ZAMBIA
Former Luanshya Chapel (Completed in 1953)
Luanshya, Copperbelt Region, Zambia 56 and 57
It was World War II, and the influx of Jewish refugees which preceded its outbreak, which provided the primary stimulus for the creation of a more sizeable and sustainable Jewish population in Zambia.  With this came the realization of tangible Jewish institutions throughout the country, including synagogues as well as social hall, schools, and cemeteries.  Along with Jewish communities in the capital city of Lusaka and at Livingstone to the south, Jews settled throughout the Copperbelt Region in central Zambia.  There the discovery and exploitation of the valuable mineral in the first half of the twentieth century resulted in explosive economic activity.  The massive deposits of copper could be said to be the true reason for Zambia's allure to European imperialism and its overall existence, and Zambian mines came to supply the industrializing world's demand for this important natural resource.  While Jewish involvement in the actual mining industry was limited, Jews quickly set up tangential businesses in this region, particularly in the areas of real estate development, trade, service, and transportation. 
Among the synagogues built in the Copperbelt Region was one in Luanshya, a relatively small city (the current day population is 118,000) that is southernmost of the regional locations where Jews settled.   The Jews of Luanshya built a nondescript, low-lying single-story brick structure, very utilitarian and unassuming  in appearance, which housed a sanctuary and communal spaces.  This building and other synagogues in the rest of the region, all dating from the early 1940s to the early 1950s, still stand although none of them are functioning Jewish houses of prayer.  Beginning in the mid-1960s, following Zambia's independence from British, the entire Jewish community, with the exception of a few, moved from the Copperbelt Region.   This was in response to an uncertain economic and social future for Jews and other whites living in Zambia.  Once this happened, the synagogues were sold, albeit they are still actively used for religious purposes as churches or Christian facilities.
The synagogue at Luanshya, now a church chapel, contains a large non-descript rectangular room used as a sanctuary.  Devoid of decoration or any sort of flourishes, the space – resembling an auditorium – has white plaster walls lined with large metal window units, a flat painted ceiling finished with flush panels with their joints covered in batten strips, plain fluorescent ceiling fixtures and ceiling fans, rows of wooden pews, and a multi-colored vinyl compositional tile floor.   The raised pulpit remains, yet the ark is no longer in place.  Instead, the entire wall once containing this important synagogue liturgical is draped.