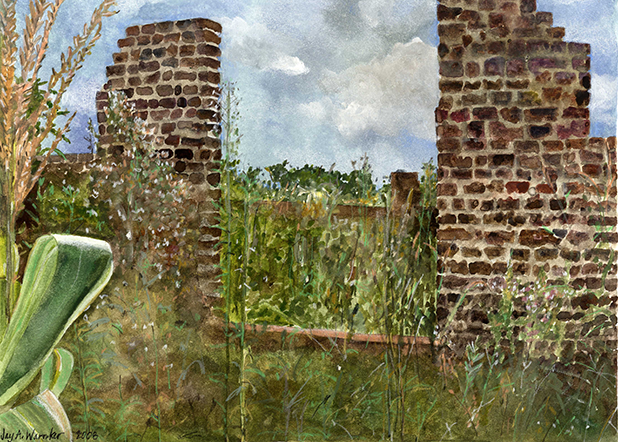 Exterior View (2008), 15" x 11" Watercolor, Jay A. Waronker
uganda
New Synagogue (Under Construction)
Abayudaya Jewish Community
Namutumba, Uganda 27
Uganda is home to the Abayudaya (from the Lugandan word for "Jewish People" or "People of Judah") community of Jews, a group made up of the large Bantu ethnic group native to Buganda, a subnational kingdom within the country.  The black Abayudaya Jews live not at a single place in this region but in a string of unassuming and peaceful villages in the eastern part of Uganda not far from the Kenyan border.   There a collection of modest synagogues building over fairly recent years can today be found.   These Jewish houses of prayer are located to the east of Mbale, Uganda's seventh largest city and the main municipal, administrative, and commercial center of Mbale District and the surrounding sub-region.  Mbale, which can be reached by frequent buses from the capital city of Kampala, can serve as the best base for visiting the Abayudayan synagogues.  Mbale's city plan during British colonial times included a segregated European district, a middle area for Indians who have long live in Mbala, and a distinct native Africa section.
Christian and Muslim neighbors once looked on the Abayudaya with contempt, but inter-faith relations in recent times have improved, and some now view members of the Abayudaya with respect and admiration.  Whereas the Abayudaya Jewish population was estimated at three hundred individuals at the time of the fall of Idi Amin in 1979, the community is said to now number up to two thousand people.
Besides the five synagogues located in the towns of Namutumba, Nasenyi, Putti, Namanyonyi, and Nabugoye, Abayudaya Jewish schools have been established in recent years with outside help from individuals and international Jewish organizations such as Kulanu.    As the Abayudaya community has increased its interactions with outside Jews, mainly those from the United States and Israel, over the past dozen or so years, its religious ideology and customs has shifted towards more mainstream and normative Judaism.  Members attend Shabbat services regularly following a conventional prayer book, maintain a kosher diet and slaughter their own animals in accordance with its regulations and, out of character from most Jews, remove their shoes before entering the synagogue in reverence to a practice by Jews in biblical times.
The village of Namutumba, east of Mbale and reached by an easy drive, once had a small synagogue.  The structure was destroyed by President's Idi Amin's forces in the early 1970s.  Amin's rule, categorized by human rights abuse, ethnic cleansing, and political and religious repression, prohibited the operation of synagogues.   Shortly after the brutal Amin was deposed, a synagogue was allowed to be rebuilt in Namutumba.   The house of prayer came to represent the rebirth and resurgence of Abayudaya's Jews after years of hardship, oppression, and discrimination.
At the time this watercolor was painted, a new synagogue to replace the one built after the time of Adi Amin was under construction in Namutumba.  This larger structure was being built not far from the older and smaller one on an open and generous site surrounded by corn and other farm crops was under construction in the Namutumba.  Namutumba is the district headquarters town in Namutumba District, sometimes referred to as Buskiki District, in eastern Uganda.
Due to the limited resources of the local Jewish community, the building started a few years back will likely take considerably more time to complete.  Yet despite this obstacle, the larger house of prayer was deemed necessary for a community of some one hundred fifty or more Jews that continues to grow.  The modest new synagogue will be a one-room structure constructed from hand-made brick walls, and it will be enclosed by simple wood framing covered in a corrugated metal roof.