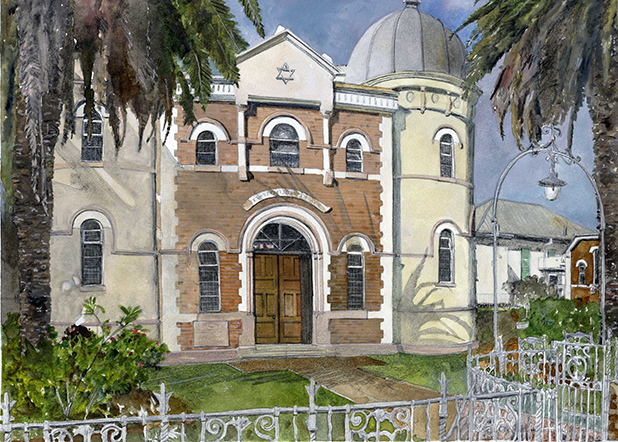 Exterior View (2011), 15" x 11" Watercolor, Jay A. Waronker
south africa
Kimberly Hebrew Congregation (Founded in 1871) Synagogue (First Building Dates to 1876; Current Building Completed in 1902)
Kimberly, Cape North Province, South Africa 71 and 72

Synagogue is not far from the monumental Anglo-Boer War Memorial designed by Herbert Barber within a large-scale traffic circle prominently located in town. The neighborhood, separated yet not far from the center of town, contains a mixture of educational, residential, and small commercial buildings.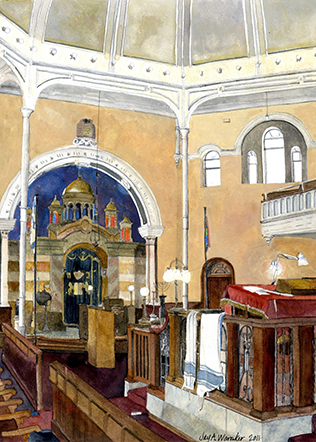 Interior View (2011), 11" x 15" Watercolor, Jay A. Waronker
Kimberly, the capital of the Northern Cape Province of South Africa, was for years home to a sizable Jewish community living in this inland and relatively isolated urban center.  Originally called "New Rush," the city with its considerable historical significance due to its diamond mining industry, became an important economic and cultural center beginning in the late 1860s.  For the balance of the nineteenth and first part of the twentieth centuries, Kimberly continued to grow and prosper, and this included the establishment and organization of a Jewish community.    As with the general population, Jews moved to Kimberly to take advantage of job and lifestyle opportunities. 
Early on, the Jews of Kimberly held prayer services and congregational events in private homes and temporary facilities.  As early as 1871, a congregation named the Griqualand West (now known as the Cape North Province) Hebrew Congregation had been formed.  Within a couple of years, the congregation was in need of a proper house of prayer.  This became reality in 1876 when a synagogue site was procured and building was built.  In time Kimberley became home to the second largest Jewish community in South Africa after Cape Town (later usurped by Johannesburg), its numbers growing steadily until it peaked with over 2,000 people in the mid-twentieth century.
It was not long before the congregation overgrew their 1876 synagogue, and a new building with a larger prayer space was planned.   It was realized on a prime parcel of land not far from the monumental Anglo-Boer War Memorial designed by Herbert Baker within a large-scale traffic circle prominently located in town.  The neighborhood, separated yet not far from the old center of town, contained a mixture of educational, residential, and small commercial buildings.
The new synagogue that came to be realized is an impressive historicist pink brick structure featuring a large central octagonal-shaped mass with its generous roof crowned with a cupola flanked by smaller cylindrical side bays capped in domes and finials.  Its foundation stone was laid on July 31, 1901, and the building was completed the following year.   Stylistically the building is not pure, yet it recalls the dense and fortified aesthetic of Ottonian and Romanesque architecture in Germany of the medieval period.  Like architecture of that period, the Kimberly Synagogue features a west work-like façade with twin towers, heavy massing, rounded arches, corner quoins, crenulated roof line, and small openings.  Along the street in front of the synagogue is an original wrought iron gate.  Aside from the large sanctuary building, Kimberly Synagogue evolved over time into a Jewish campus that came to include a large social hall, administrative areas, various support spaces, and an educational wing.   Cecil Rhodes, who had a long association with Kimberly as founder of De Beers Mining Company, was a donor to the synagogue construction effort, and his generosity is acknowledged in the building foyer.  In this same space is a memorial tablet to all Jewish officers and soldiers who fell in the Anglo-Boer War (1899 – 1902).
The synagogue contains beautifully-designed and highly impressionable spaces.   A pair of heavy paneled-oak front doors with a semi-circular stained glass transom opens into a generous foyer.  This anteroom is detailed in polychromatic encaustic floor tiles common to the period, plaster walls painted pale green, a paneled oak wainscot, white plaster ceiling with various trim pieces and patterns in relief, a centered period-piece brass chandelier, an assortment of wall-hung plaques commemorating members of the congregation who served South African during various wars or provided service to the synagogue, a wall-hung building inscription, and two small white-framed windows that flank the entry doors and provide natural light into the foyer.   Off the short sides of the foyer are twin passages leading either to the matching dramatically-curved stairways to the women's gallery level or to support spaces that include a small toilet, cloakroom, dressing area, and storage rooms.   Two pairs of oak-paneled doors on the wall opposite the front doors open into the large and impressive octagonal-shaped sanctuary.
Arrival into the sanctuary is a memorable and uplifting experience as the room is well planned and visually pleasing.  It is a large octagonal space measuring 56' with a soaring segmented-arced (versus pure dome) ceiling detailed in applied trim forming squares and crowned by a painted white wood-paneled cupola with elliptical-shaped windows.   Around the base of the ceiling are sixty-four small star-shaped bronze lights, which help define the area and provide visual interest and drama.  The sanctuary also features plaster walls painted a blush color, a paneled oak wainscot, four thin painted white cast iron columns with floral and leaf-patterned capitals and bases that support the near-domed ceiling, a gray-green plaster pattern-on-pattern ceiling with rope and rosette borders, and fixed rows of paneled oak pews with storage compartments under the seats and collapsible ledges for holding prayer books.  On the ground floor, there are two hundred and one seats for the men, while at the gallery level are one hundred and thirty one seats used by the women.   The space is also decorated with period bronze chandeliers with frosted glass tulip shades, several rounded-arch windows with caned or stained glass, slate blue linoleum tiled floor partially covered in plush ruby red carpeting, large yarzeit (memorial) wooden wall panels, the flags of South Africa and Israel on poles, and framed photographs of the officers of the congregation over the many years hung on the walls adjacent to the entry doors.
The two most prominent architectural features of the sanctuary are the bimah (table where the Torah is read) and ark.   The raised bimah, positioned near the entry doors and separated as far as possible from the pulpit and ark, sits on a gray marble base.   It is detailed with a stained wood and wrought ironing railing, corner brass column lights with globe or tulip-shaped shades, a reading table draped in deep red velvet, and a separate area to the front containing red leather upholstered seating for the officers of the congregation.
Kimberly Synagogue's most distinct architectural element is its sizeable ark.   It is a dramatic if not theatrical piece intended to appear less like a traditional cabinet but rather as an entire building in miniature.  A work of genius and skillful craftsmanship, its walls are faux finished to resemble coursings of yellow and gold marble bordered in green marble.  The ark, resting on a darker base, features a large central domed cupola at the top that is flanked with four smaller cupolas.    The ark, dramatically lit to further enhance the illusion that it should be seen more as an actual building versus as piece of furniture, is set within a niche that is flanked by twin pairs of slender stylized orders with white and gold capitals.  The columns support a rounded header detailed also in gold.  Atop the header are Ten Commandment tablets.  The half-domed ceiling of the niche is painted to resemble the sky with a deep blue field and dispersed gold stars.  Concealed lighting within the niche illuminates the area created to look like the sky.   The ner tamid (eternal light), a polished brass fixture, hangs in front of the ark.  The ark is draped with a burgundy and gold velvet parohoat (curtain) hung on a rod.   While the ark functions in a traditional way to store and secure the Sefer Torah, it overall role and presence within the sanctuary space extends much further.  It is indeed a strikingly beautiful and thespian element that enhances and glorifies the overall spatial experience within this very special synagogue.
The discovery of gold in the Rand of eastern South Africa drew many locals including Jews from Kimberley to Johannesburg.  Kimberly's importance slowly declined over the decades, so that by the late 1960s the Jewish population of Kimberley had dropped to about six hundred.  By 2005, fewer than fifty Jews remained in town.  In very recent years, the Kimberly synagogue with its so-dwindled congregation has struggled to maintain the extensive and expensive building that is now more than a century old.   As a means of raising money to refurbish the costly building, which is maintained yet not as completely so as the community would like, a few years ago they devised a clever fund-raised scheme to "sell" the building per a square meter cost of 150 rands.    Despite its decline, the synagogue remains operational and vital, and visitors are particularly welcomed.