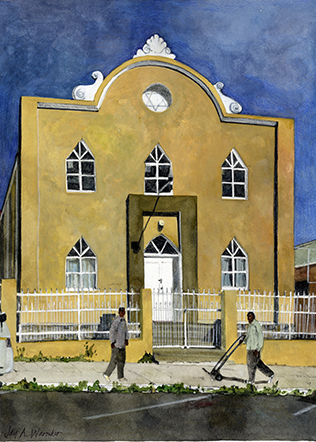 Exterior View (2013), 11" x 15" Watercolor, Jay A. Waronker
south africa
Former King William's Town Synagogue
King William's Town
South Africa 84

This building is now in private hands.
King William's Town, located in the Eastern Cape province of South Africa along the banks of the Buffalo River, for decades was home to a small community of Jews.   Founded in 1835 yet not permanently settled until the mid-1840s, King William's Town was not incorporated until 1865.  Many of the early citizens were German colonists.   King's William's Town grew after the late 1870s when the Cape government of Prime Minister Molteno opened the first railway there, connecting it to East London on the coast as well as points east.  With its direct railway link, the town became a regional trading post.  This modest growth spurt attracted new citizens, including Jews by the early 1900s.   Many harked from Lithuania, although an assortment of Eastern and Western European Jews settled there as well. 
During the very late nineteenth century and earliest years of twentieth century, the Jews conducted prayer services in private homes or temporary facilities.  Yet in response to King William's Town Jewish growth spurt, a synagogue was realized on land obtained in the center of town.  The building that was realized is a small and reserved structure with a front façade that is stylistically draws from various traditions.   The roof line with its half-round parapet wall features simplified Dutch Cape and Neo-Baroque elements.  These include a festoon centered on the peak of the rounded-arch top, two scrolls that flank this central arch, and a pair of fan-like elements at the top of the ends of the building (now missing).  Yet the façade is stripped down otherwise.   Towards the top of the façade in the center is a window that contains a divided lite Star of David pattern.  The awning windows at the first and second floors are usually shaped with their triangular heads.   The front door with transom, centered on the ground floor, is a modified version of the same shape since it is a shallow pointed arch.
With the decline of the Jewish community in King William's Town in the last two and a half decades, the synagogue closed, and the building was sold.  It is today in private hands.   At the time this watercolor of the former King William's Town Synagogue was completed, it was painted a vibrant yellow ocher with white trim.  The original highly-decorated wrought iron fence and gate set between masonry posts in front of the building was removed at some point, and it was replaced with a more simple design.   The original sconce and the Hebrew name of the synagogue had also been removed, and a modern lighting fixture was hung.