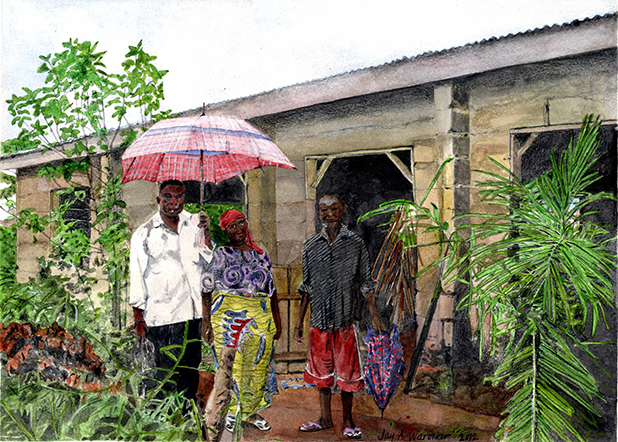 Exterior View (2012), 15" x 11" Watercolor, Jay A. Waronker
nigeria
Nigeria Friends of Institute of Light Israel-Africa Synagogue (Completed in 2002)
(formerly Shabbat Congregation)
Igbo Jewish Community
Lugbe Extension
Abuja, Nigeria 7 and 8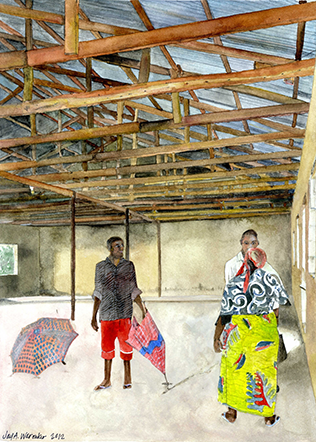 Interior View (2012), 11" x 15" Watercolor, Jay A. Waronker
This Igbo synagogue, formerly the Shabbat Congregation and renamed the Nigeria Friends of Institute of Light Israel-Africa Synagogue by a visiting American rabbi, has to be considered one of sub-Saharan Africa's most understated if not downright rudimentary houses of prayer.
The Nigeria Friends of Institute of Light Israel-African Synagogue is located in an out-of-the-way mixed residential and commercial district on a dirt road twelve miles (twenty kilometers) south of Abuja in the Lugbe Extension area.  It can be reached by a modern and speedy four lane highway from Abuja.  An exit off the super highway system leads to this loosely-planned district. where it quickly transitions from the well-paved and fast highway to bumpy and slow unpaved roads without sidewalks.  Here a hodgepodge collection of one-story houses, small commercial spaces such as a grocery store, bar, and other rudimentary shops, and institutional facilities including schools and houses of prayer are sprawled about. 
 
Since central Abuja currently has no synagogue (one was said to be in the early planning stage at the time this watercolor was completed), this is the nearest one to the city center.  The congregation was formed in the late 1990s when some Igbo Land Jews moved to Abuja for personal and professional reasons.  In time this rudimentary space was constructed behind a caretaker's house near the dirt road.  The building is made of exposed concrete block and a wooden truss roof covered in corrugated metal.  The walls contain openings but no windows.  Today only ten people are affiliated with this congregation since some of its former members had at the time of this painting recently moved back to the Igbo Land in south central Nigeria in part due to Islamic insurgency in Abuja.  The Igbo Land, however, suffers its own instability and serious dangers.
The Igbos are one of Nigeria's largest ethnic communities numbering some thirty-five million, and in recent years thousands of them have come to embrace and practice Judaism.   This is the case even though few if any have officially converted to the religion or had any formal Jewish training.   For years they also have had limited contact with outside Jews, although in very recent times this has somewhat changed.   Western rabbis and Jews, most from the United States, and the international Jewish service organization Kulanu have intervened and come to the aid of the Igbo Jews.  The Igbos claim to be descents of ancient Israelite migrants, and at some point in their history they wandered about Saharan Africa before moving into Nigeria.  Many of the Igbo Jews are based in Igbo Land, a region in south central Nigeria bordering the Atlantic Ocean.   Several small, particularly modest synagogues can be found there, but visiting these buildings and their communities remains dangerous because of domestic turmoil and terrorism coupled with the risk of crime and kidnapping.
When Jay Waronker, the artist of this painting, and his Igbo Jewish escort asked a local middle-aged woman along the side of the highway off-ramp road, who was waiting for public transport into central Abuja, for directions to the synagogue, she resisted initially.  It seems that some locals are under the impression that mysterious and dangerous religious practices are carried out in the synagogue, and these sinister and alarming antics had scared them off.   It was only after polite assurances by the Igbo Jew accompanying Waronker to the synagogue in his car that the woman, a Christian, felt comfortable enough to guide them to the nearby synagogue.  Yet once at the building, she categorically would still not come inside.   The lady waited patiently in the hard rain for Waronker and his guide to finish their work at the synagogue for nearly two hours, and then she was offered a ride into central Abuja since during that time no bus or alternative means of transportation had come.
The synagogue, a single room which serves as the sanctuary, is a rectangular space measuring 34' x 56' with a raw concrete floor, unfinished concrete block walls, low crude wood ceiling trusses left open so that the underside of the corrugated metal roof is exposed, steel structural pipe columns along the center of the space to support the roof trusses, wooden doors, no bimah (table where the Torah is read) or ark, and wall openings without windows.  The sanctuary has no electricity, and it is empty of furniture and fittings.   To one corner of the room was some Hebrew text handwritten in chalk onto the wall in the form of a language class, yet otherwise the space as it appeared at the time this watercolor was completed was void of any architectural or liturgical features identifying it as a synagogue or Jewish space.   In fact, the space even looked little-used as a gathering or communal area.
At the time of Waronker's visit in June 2012, the synagogue was being watched over by "Brother Johnson" and "Gabbay Bracha," a middle-age couple who lived in the adjacent caretaker's house close to the road.   The attendants revealed to Waronker and the Igbo Jew accompanying him that prayer services were regularly held here.  This was so despite the space lacking the most basic liturgical features as well as chairs to sit on or any sort of table surface to conduct the service from.   There was also no prayer materials of any sort, no Torah, or other material associated with Jewish prayer services or life, and to Waronker the utilitarian and empty space appeared dreary and nearly abandoned.