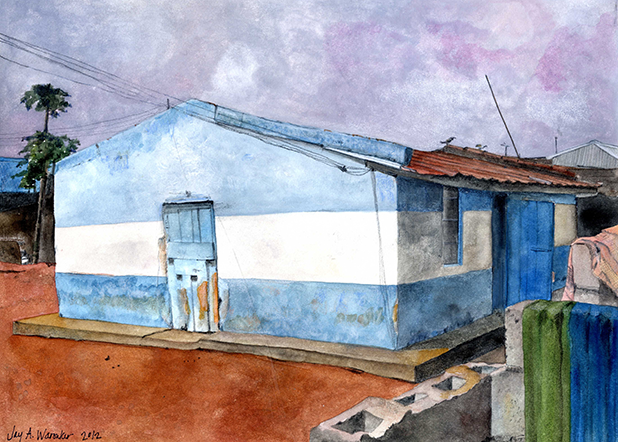 Exterior View (2012), 15" x 11" Watercolor, Jay A. Waronker
nigeria
Tikvat Israel Congregation (Formed around 1997) Synagogue (Dating from the turn of the 21st Century)
Igbo Jewish Community
Kubwa
Byazin Street
Abuja, Nigeria 5 and 6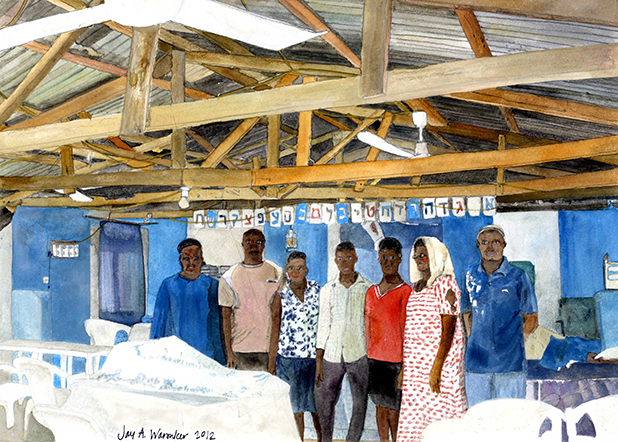 Interior View (2012), 15" x 11" Watercolor, Jay A. Waronker
This single-story, low-slung synagogue compound is located on Byazin Street, a mostly dirt road in Kubwa, a massive satellite city outside of Abuja.  It belongs to a small congregation of Igbo Jews who moved for personal and professional reasons from Igbo Land in southernmost Nigeria to the national capital beginning in the late twentieth century.  Tikvat Israel is accessed by the super highway system built by the national government some decades back that connects central Abuja to sprawling outlying suburban communities and beyond.    Once off the well-paved highway, an informal series of partially-paved and dirt roads lead to the synagogue and neighboring non-Jewish homes, local businesses, and small institutional buildings.
The Tikvat Israel congregation was formed in the late 1990s, and soon thereafter the community acquired land for this synagogue and Jewish center.  Once funding had been raised, the members of Tikvat Israel, today numberings around thirty people living in the immediate area of the synagogue as well as other parts of a sprawling and large Abuja, built a small and modest compound.  It includes a roofed yet open-air social space, kitchen, altar room (that seems to draw from native African and decidedly non-Jewish inspiration), residential spaces, hand-washing station, and a freestanding sanctuary building set within a dirt courtyard surrounded by solid walls.  The sanctuary building, set on a thick concrete slab, is constructed of concrete block veneered in exterior plaster that has been painted blue and white.  These are colors overtly associated with Jewish elements, including the bands on a tallit (prayer shawl) and the flag of Israel.  The synagogue's load-bearing wall support a wood-framed gabled roof covered in rusted corrugated metal sheets with deep overhangs.   These overhangs are in response to the climate with its intense sunlight and periods of heavy rains.  Positioned on the roof is a water tank.   Small openings with jalousie windows and painted-blue wood doors fill the building's walls, which are weathered, soiled, and deteriorated.  
The synagogue's rectangular sanctuary space measures 19' x 31' in size.  It is finished in a ceramic tile floor, painted plaster walls, low open raw wooden trusses at the ceiling, wooden doors, wooden bimah (table where the Torah is read), ceiling fans, a ner tamid (eternal light) hanging at the raise podium and near the ark, clock, bookshelf, simple wall hangings, and separate areas for men and women as per Orthodox Jewish custom.   Simple seating is provided in the space.
Included in this watercolor of the Tikvat Israel Congregation sanctuary are some of its members who routinely welcome visitors, engage them in conversation, proudly show them around, and allow them access to all its spaces and places.