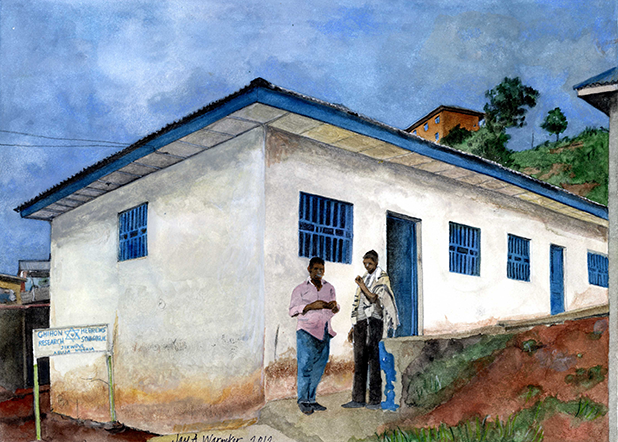 Exterior View (2012), 15" x 11" Watercolor, Jay A. Waronker
nigeria
Ghihon Hebrews' Research Synagogue (Congregation Formed in the 1990s; Building Completed in 2005)
Igbo Jewish Community
Jikwoyi
Prayer Road, Phase 2
Abuja, Nigeria 3 and 4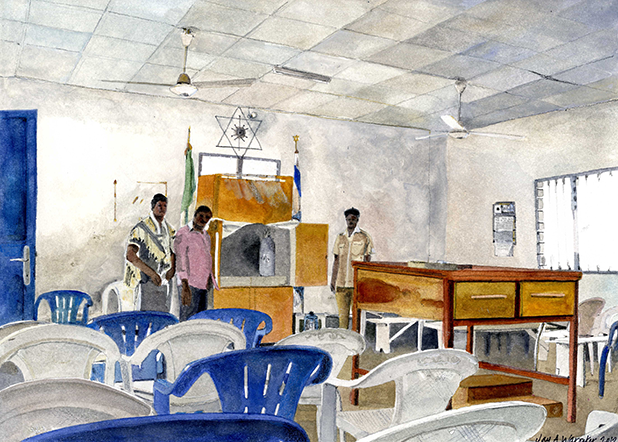 Interior View (2012), 15" x 11" Watercolor, Jay A. Waronker
This modestly-sized and unpretentious synagogue, located on a rough dirt road alongside non-Jewish houses, small shops, and churches, belongs to a congregation of seventy Igbo Jews in Jikwoyi, a suburban community twenty minutes by super highway north of Abuja, Nigeria's sprawling capital city.  The congregation was formed in the 1990s, they bought land for this synagogue in 2001/2 following a fundraising campaign, and three years later this unassuming building was constructed.    During a visit by an American rabbi some time later, the congregation was relabeled Ghihon Hebrews' Research Synagogue, a seemingly unusual name.
The synagogue is located on a steep dirt and grass hill orientated so that its short dimension faces the road and open space in front defined by a low concrete block retaining wall.  Here a sign with the synagogue's name can be found.   The building is constructed of concrete blocks that have been veneered in crisp white exterior plaster and a wood-framed hipped roof covered in corrugated metal sheets with closed overhangs.  A few small openings filled with painted blue metal security bars line the walls, and the door to the synagogue is along the long side of the building.  It is accessed via a narrow exterior concrete stair.
The interior of the synagogue is made up of a simple rectangular sanctuary space measuring 22' x 38'.  It contains an unpainted concrete floor, painted white yet soiled and imperfect plaster walls, a painted ceiling made up of panels butted together with their joints covered by batten strips, ceiling fans with lights, jalousie windows, painted wood doors, plastic chairs and tables, wooden benches, a wooden bimah (table where the Torah is read) and ark, a Nigerian and Israeli flag, simple wall hangings as decoration, and a rudimentary kitchen in the corner of the room.  
On a regular basis, prayer services are held in the sanctuary conducted by laymen of the congregation, and members regularly congregate here at other times for study and social contact.  
A simple mechitza (traditional partition) built by the local community separates the men's seating area from the area to the rear of the space designated for the women as per Orthodox Jewish custom.  A small Torah was obtained by the congregation in 2008, and social and educational activities were begun in 2010.   Here the members have taught themselves Hebrew, conduct daily and holiday prayer services, perform Jewish weddings and social events, and carry out Bar and Bat Mitzvot. 
Ghihon Hebrews' Research Synagogue was founded by a group of Igbo Jews who shifted from Igbo Land in south central Nigeria to Aduja in the 1990s.  As one of Nigeria's largest ethnic communities, the Igbo number some thirty-five million, and tens of thousands (exact figure unknown) have come to embrace and practice Judaism in recent years.  According to local narratives, only the Nri, Aguleri, Umuleri and a few neighboring Igbo clans have histories that indicates their Jewish origins.  These groups claim to be descents from ancient Israelite migrants who came to settle in Nigeria.   Their oral histories provide a diverse if not confusing account of who they are and where they come from.   Some versions indicate that the Igbo Jews passed through Yemen, Egypt, Baghdad, or Mecca.  What is known is that some Igbo have long thought of themselves as Jews, yet no one can pinpoint when this belief first started.   Igbo have for years practiced customs regularly associated with or somewhat similar to Jewish ways, including certain dietary practices, the circumcision ceremony, purification ceremonies, rest days, special feasts, atonement of sins, oath swearing, having covenants, burial practices, mourning of the dead, ritual baths, monotheism, ways of praying, and how their children are named.   
Over recent years, various Jewish Igbo enclaves in Igbo Land have built several small synagogues in their towns and villages, but visiting these houses of prayer remains dangerous because of domestic instability and terrorism.   As a result, some Igbo Jews have also moved to the national capital city of Abuja, and there three if not four congregations have been organized and synagogues constructed.   Since Abuja, albeit not free of crime and terrorism, is comparatively safer, a visit to all if not most of synagogues spread through sprawling Abuja can likely be arranged using caution.