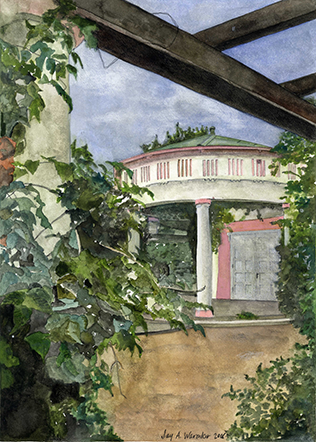 Exterior View (2005), 11" x 15" Watercolor, Jay A. Waronker
NAMIBIA
Gammans Cemetery Chapel (Early 20th Century)
Corner of Hochland Road and Hosea Kutaka Drive
Windhoek, Namibia (Formerly German South-West Africa) 60 and 61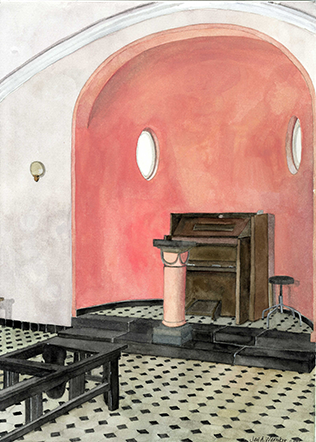 Interior View (2005), 11" x 15" Watercolor, Jay A. Waronker
Windhoek's Jewish burial ground is part of the Old Windhoek Cemetery, established in 1892 and expanded over the years to include what is known as the Gammans Cemetery.  This is the central cemetery of Windhoek municipality, and where soldiers and much of the city's Christian population has also for years been laid to rest.  Dating to the colonial period, it was originally established for the city's white population.   Yet over the years the cemetery expanded to contain the graves of those of other religions, including the Baha'i faith.   
The cemetery is located at the corner of Hochland Road and Hosea Kutako Drive in a quiet district of Windhoek.  It is a carefully planned and beautiful place with an organized arrangement of burial sites, manicured hedges, gravel and dirt walkways for strolling, mature groupings of shade trees, indigenous plants including some cacti, and flowering shrubs that together provide a sense of peace and tranquility suitable as final resting place.  Throughout its history, the cemetery has remained well cared for and watched over.  In 1987, it was declared a Namibian national monument.
Although not built specifically for the Jewish community, an attractive chapel semi-circular in form can be found within the cemetery grounds not far from the Jewish burial area.   To the opposite side of the building begins the Christian section.  The chapel is well placed in the property, flanked by trees, and on axis with a major pathway that helps dramatically frame the structure.  The small building, with its exterior plaster walls and corrugated metal roof, has long been shared for funeral ceremonies between the Jews and other faiths represented in the cemetery.  While not stylistically pure, it contains neo-Etruscan and classical features that are painted or finished in a bold salmon-colored and green scheme as per the tradition of these periods' architecture.  The result is an intimately-scaled, highly memorable, and particularly striking design that may come as a surprise to a first-time visitor to the cemetery.
The chapel's interior space features a contrasting black and off-white marble floor, cream-colored plaster walls with a few small windows, a shallow vaulted ceiling, stained wooden pews, and an apse painted in a dramatic salmon color.  Set within the niche is an old wooden organ, and a table to support the coffin can also be found in the space.   Aside from this main room in the center of the building, there are smaller chapel support spaces on both sides.