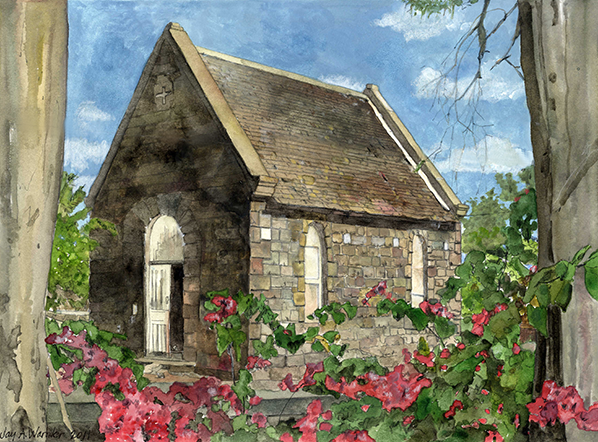 Exterior View (2011), 15" x 11" Watercolor, Jay A. Waronker
MAURITIUS
Saint Martin Cemetery Chapel (Likely from the Late 19th Century)
Bambous, Mauritius 117



The cemetery contains Jewish and Christian sections.
A current plan by the Mauritian Jewish community with the support of the African Jewish Congress (based in Johannesburg, South Africa) is to repurpose this late nineteenth to early twentieth century Gothic-Revival cemetery chapel, not built for Jewish purposes, as a Jewish memorial and chapel.   It will function in part to memorialize those Jews who perished on a ship when the British authorities refused to grant permission for those escaping Nazi Germany and attempting to find permanent residence in Palestine.   When this permission was denied, passengers were deported, and during the voyage the ship, loaded with Jews who had no place to go, was attacked and destroyed.  All those abroad were killed.
For some years this attractive little building with its steeply-pitched roof covered in slate tiles, walls constructed of blocks of granite, and neo-Gothic window and door details was little used or served as a storage facility.   Poorly maintained for a long period, the building would need considerable work to bring it back to form and useful function.