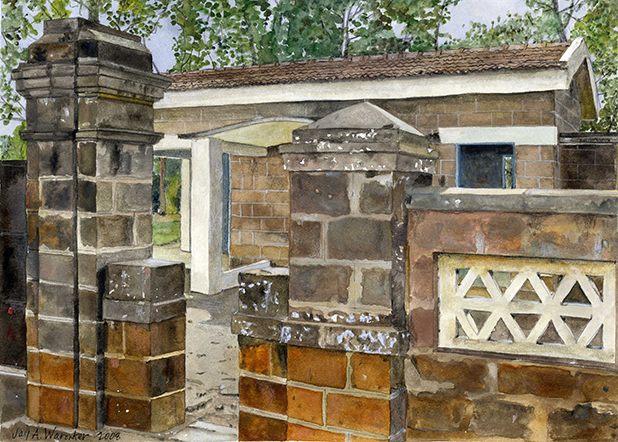 Exterior View (2012), 15" x 11" Watercolor, Jay A. Waronker
kenya
Jewish Cemetery Chapel (completed in 1946)
Nairobi, Kenya (formerly British East Africa) 39 and 40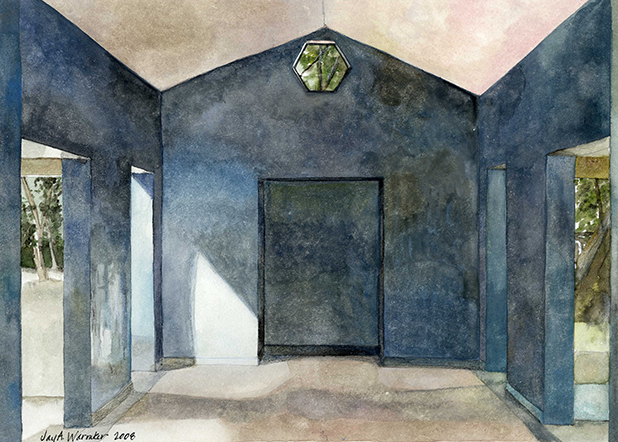 Interior View (2012), 15" x 11" Watercolor, Jay A. Waronker
Kenya's Jewish community in Kenya dates back to the turn of the twentieth century when, in 1903, the British colonial secretary Joseph Chamberlain offered the Zionists in what was known as the Uganda Program a part of the territory in Kenya and Uganda for their own autonomous country at the Sixth Zionist Congress.  Whereas the proposal created considerable controversy among the international Jewish community, and was it eventually reverted at the Seventh Zionist Congress in 1905, several Jewish families nonetheless immigrated to Kenya and came to organize themselves into a formal community.  It was in 1907, during a meeting of Jews, that the community gave itself the formal name of Nairobi Hebrew Congregation and Burial Society.  By 1912, a synagogue near the center of town was opened, and soon thereafter a Jewish cemetery was also established.
World War II bolstered the Kenyan economy with a modest post-war boom.  This opened up many opportunities particularly in the national capital, and Jews from other parts of Kenya (who had been prohibited by the British under colonial law from living in Nairobi during the war) and elsewhere moved in Nairobi to take advantage of the strong economy.  Although not a huge growth spurt since the city's Jewish population in its history never exceeded two hundred members, the influx of new Jews to the city beginning in the late 1940s and continuing in the 1950s led to changes within the Nairobi Jewish community.  In 1946, a new Jewish cemetery opened in the city.  By that time, burial space at the early 20th century cemetery had been exhausted.
A small open-air chapel can be found at the Jewish cemetery for funerary services.   It is located near the road that is bordered by a high and heavy stone wall with a metal gate.   The chapel was designed with walls of dressed stone blocks that support a gabled-shape, concrete-structure roof covered in clay tiles.   Door and window openings, all open-air, have concrete lintels, and there is a front porch with a concrete-framed shallow vaulted roof supported on square concrete columns.
Behind the chapel, and surrounded by mature trees and a flat grassy lawn, are the Jewish graves.