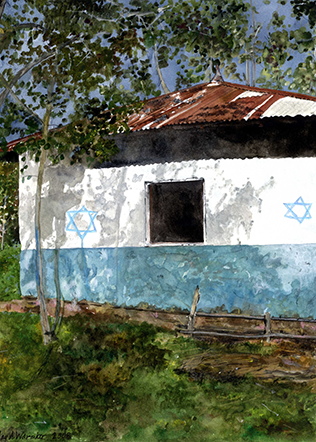 Exterior View (2009), 11" x 15" Watercolor, Jay A. Waronker
ethiopia
Former Synagogue at Wolleka (Date uncertain)
Beta Israel Community
Wolleka, Ethiopia 15 and 16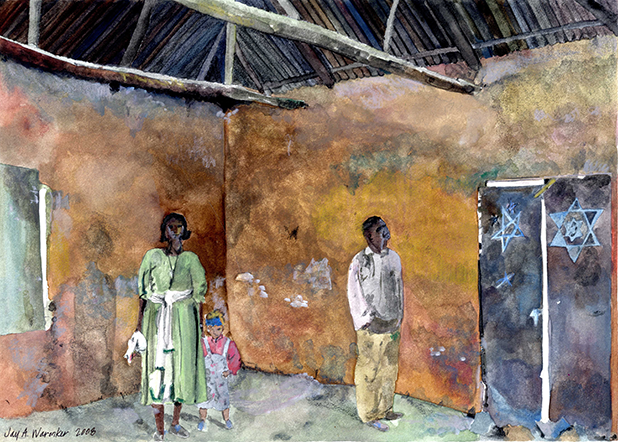 Interior View (2009), 15" x 11" Watercolor, Jay A. Waronker
Among the many places in Ethiopia that Beta Israel once lived is the village of Wolleka.  Wolleka is near the town of Gondar, the largest town in the region, and it is located in the rugged yet naturally beautiful Semien Gondar Zone of the Amhara Region.  The Wolleka synagogues, now closed, are located down a rough dirt road that begins off the main paved highway from Gondar.   This two-lane road, lined in the immediate area by rows of trees, is a busy thoroughfare crowded with cars whizzing by, pedestrians walking along the road edges, and cows and other farm animals.  The one lane turn-off to the synagogues can be easily spotted by the souvenir signs and shops, makeshift stalls, and hawkers set up here in recent years selling Fallasha curios to mostly Western tourists.   All sorts of inexpensive handmade pottery and other products said to be made in part by Beta Israel Jews, yet crafted by local non-Jews taking advantage of the flow of visitors, are on sale here and pushed on the often-overwhelmed tourists.  Some feature Stars of David or other community markings while others are more generically Ethiopian.
After a few minutes' drive along the bumpy road, two very small buildings of unknown dates identified as once serving as synagogues come into view in tiny Wolleka village.   These two structures, positioned side by side, are surrounded by a collection of stick and mud huts with rusted metal roofs, dense vegetation, pockets of cleared space, mud paths, grazing cows, and the local people walking about, including many children doing their best to sell souvenirs.   Both synagogues are mud and dung construction supporting a crude wood-framed roof covered in rusted sheets of corrugated metal.   One of the former synagogues is an imperfect 18' octagon, while the other is an 18'-7" square.    Their exteriors have been painted in a color scheme -- white at the upper walls and a medium blue base -- often associated with Jewish objects such as the tallit (prayer shawl) and Israeli flag.  The walls are decorated with hand-painted Stars of David.   The mud walls are punctured by a few small window openings that feature painted blue shutters, and there is one painted wood door.
This former synagogue, albeit a particularly modest if not rudimentary structure with no utilities or refined finishes, nonetheless it is a special and particularly memorable building for its hand-crafted qualities, intimate scale, vernacular building tradition, sensible construction, and distinct sense of place.
The Beta Israel, more commonly known by the pejorative term Falasha (meaing "foreigners" or "exiles"), are a well-known community of Jews that once lived in north and northwestern Ethiopia in hundreds of villages and small towns spread over a wide territory.  Claimed by some to have an ancient Jewish origin that has never been altogether authenticated despite rounds of DNA testing, for centuries the Beta Israel lived among predominantly Muslim and Christian populations.   As a small majority without regular contact with other Jewish communities, for years they managed to maintain a distinct Jewish identity that included the practice of traditional religious customs and long-established lifecycle practices. 
Beginning in the late 1970s and continuing to this day, tens of thousands of Beta Israel were evacuated either through Sudan or directly from Ethiopia to Israel through the careful planning and support of the Israeli and American governments.   The Jews left Ethiopia due to the less-than-ideal conditions of a war-torn or economically depressed country, which included the right to practice their religious freely and live safe and secure lives under the communist government then in place.   Israel also embraced the immigration of Jews, although the settlement of the Beta Israel to the Jewish homeland did not always go smoothly and without protest.   While the majority of the Beta Israel Jews are now citizens of Israel, a few thousand remain in Ethiopia, either ones who chose not to earlier emigrate or who now claim to be Jewish or have come to embrace Judaism in recent years. They too are awaiting relocation to the Jewish State once complicated arrangements are finalized.