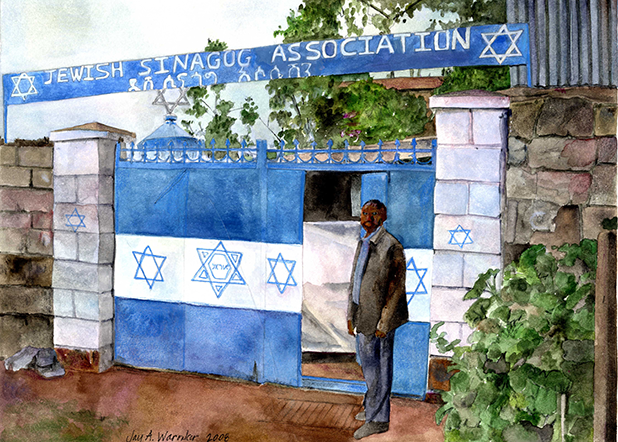 Exterior View (2011), 15" x 11" Watercolor, Jay A. Waronker
ethiopia
Jewish Sinagog Association (1980s)
Beta Israel Synagogue
Addis Ababa, Ethiopia 11 and 12
Interior View (2011), 11" x 15" Watercolor, Jay A. Waronker
In the sprawling Ethiopian capital city of Addis Ababa, on a site not in the center of town but in a quieter inner residential area, is a Beta Israel campus.  Located along a minor road were a Jewish clinic can also be found is this Jewish property.  It is fronted by a stone wall and painted blue and white metal gate decorated with Stars of David.  Above the gate is a metal sign that reads "Jewish Sinagog Association" along with the equivalent in Amharic, one of Ethiopia's many languages.
The campus is not a single conventional building, but it is made up of a collection of outdoor areas, covered – even tent-like -- open spaces, and fully-enclosed rooms.  These are used for a variety of functions:  a sanctuary, Jewish school, training spaces, library, offices, kitchen, gathering areas for religious and communal activities, and several other support functions.  The campus is organized and run by Beta Israel community leaders who are dedicated to their work and the operation of a serious Jewish center.   Although most Beta Israel immigrated to Israel beginning in the late 1970s and continuing to this day, for the ones that remain in Addis Ababa, this campus is intended to serve as their religious and communal home.
In the center of the campus, and functioning as the heart of the Beta Israel center, is a sanctuary.   It is not a permanent building per se but a temporary, tent-like space with its roof framed in hand-cut wooden members that is supported by hand-cut slender wooden tree trunks.  Covering the roof framing are sheets of corrugated metal, wood boards, or heavy fabric.  Fabric also drapes the sides to contain and define the space, yet other sides are enclosed with hand-painted panels featured images of Jewish historical scenes or important Jewish sites, such as the Kotel (Western Wall in Jerusalem), Jewish slavery in Egypt, the receiving of the Ten Commandments, the parting of the Red Sea, marching with the Sefer Torah, and a menorah (candelabra).   The floor of the sanctuary is dirt.
As per Orthodox Jewish custom, men and women sit separately in the small sanctuary on simple painted blue and white wooden benches without backs.  A fabric mechitza (screen partition) separates the genders, also a custom.   At the pulpit is a bimah – a table draped with a white and blue fabric decorated with Jewish features.  Here the Torah is read.  The sanctuary's most prominent feature is its ark shaped like commandment tablets.  The doors of the ark are fabricated in wood, gilded, and hand-painted with Hebrew letters.  Above and surrounding the ark are hung colorful fabrics of different materials and textures, and a ner tamid (eternal light) fixture is positioned here.   The sanctuary is otherwise lighted with simple fluorescent fixtures affixed to the low ceiling.
Although an unassuming if not rudimentary design, this Beta Israel sanctuary is a highly memorable and beautiful space.   It could recall the ancient and transportable Court of the Tabernacle or the seasonal sukkah built during the holiday of Sukkot.  Both are impressionable and embedded architectural forms to Judaism.   One is struck by the hand-crafted and hence personalized qualities, the creation of an especially distinct place, and the truest sense of purpose and devotion to Jewish prayer and life at this Beta Israel prayer space.   While other sanctuaries around the world may contain far more luxurious appointments and materials set within a design that has been professionally executed and a delight to the eyes and other senses, the space here in Addis Ababa stands alongside them as being one of the most special and unique Jewish spaces imaginable.   It is a story of how simple things combined with love and care can serve the needs of a user while at the same time create fine architectural space.
The Beta Israel, more commonly known by the pejorative term Falasha ("foreigners" or "exiles"), are a well-known community of Jews that once lived in north and northwestern Ethiopia in hundreds of villages and small towns spread over a wide territory.  Claimed by some to have an ancient Jewish origin, altogether never authenticated despite rounds of DNA testing, for centuries the Beta Israel lived among predominantly Muslim and Christian populations.   As a small majority without regular contact with other Jewish communities, for years they managed to maintain a distinct Jewish identity that included the practice of traditional religious customs and long-established lifecycle practices.    With this came the construction of synagogues designed in the local vernacular.
Beginning in the 1970s and continuing to this day, tens of thousands of Beta Israel were evacuated either through Sudan or directly from Ethiopia to Israel through the careful and quiet planning and support of the Israeli and American governments.   The Jews left Ethiopia due to the less-than-ideal conditions of a war-torn or depressed country, which included the right to practice their religious freely and live safe and secure lives.   Israel also embraced the immigration of Jews, although the settlement of the Beta Israel to the Jewish state did not always go smoothly and without protest.   While the majority of the Beta Israel Jews are now citizens of Israel, a few thousand remain in Ethiopia, either ones who chose not to earlier emigrate or who now claim to be Jewish or have come to embrace Judaism in recent years.  Many of the remaining community are awaiting relocation once complicated arrangements are finalized, yet some will likely choose to remain in Ethiopia.